Embedded Arrays

Creating hard macros for cells that are highly integrated and have advanced functionality enable development of system-on-a-chip designs, and utilization of the sea-of-gates structure in the logic means that development period subsequent to the interconnection process is roughly equivalent to that for gate array chip.
In addition, the base bulk for LSI can be deverted, in case to modify the logic block only, the lead time and cost of re-development is same as gate array.
Lineup
Design for Embedded Array Chips
Design of embedded array chips begins from system design, determine the gate count and macro cells in the logic block .and start the base bulk fabrication. The base vulk is the wafer which the cacro cells are implemented in and the sea-of-gates logic block is laid out. On a parallel with bulk wafer fabrication, start logic and lay-out design and confirm that design through simulation. After sign-off, proceed to the interconneciotn step. The samples are shipped as same delivery schedule asr gate arrays. Since the base bulk for LSI can be deverted,Int the case of the logic modification only, it can be modified by the same development cost and time as gate arrays.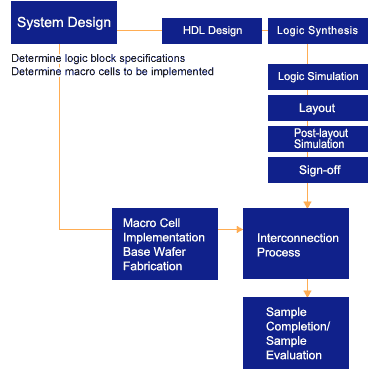 Embedded Array Lineup
S1X80000 Series
Status
MP
Series
S1X80000 Series
Features

Based on 0.15µm CMOS process technology using 4/5-layer interconnect process
Internal gate delay: 34.5ps/1.8V, 2-input NAND Typ.
Lower power consumption (Internal cell: 0.063µW /MHz/gate 2-input NAND Typ.)
Drive performance (IOL=2,4,8,12mA at 3.3V)

Macro Cells
RAM, ROM, Flash, LVDS, RSDS, various types of macro cells
Package
48 to 256 pin QFP, PBGA, PFBGA, SQFN
S1X60000 Series
Status
MP
Manual
S1X60000 Series Design Guide (3,354KB)
Series
S1X60000 Series
Features

High-density integration (0.25 µm CMOS process technology and 3/4/5-layer interconnect process, number of raw gates: 2,500,000 Max.)
High-speed operation (Internal gate delay: 107 ps/2.5 V, 2-input power NAND Typ.)
Selectable supply voltage: Operation on a single power supply (2.0 V, 2.5 V)
Operation on dual power supply (I/O: 3.3 V/internal: 2.5 V, I/O: 3.3 V/internal: 2.0 V)
Low power consumption (Internal cell: 0.18 µW/MHz/gate, 2.5V, Typ.)
Drivability (IOL = 0.1, 1, 3, 6, 12, 24 mA at 3.3 V, IOL = 0.1, 1, 3, 6, 12, 24 mA at 2.5 V, IOL = 0.05, 0.3, 1, 2, 4, 8 mA at 2.0 V)

Macro Cells
RAM, ROM, Flash, MCU, PLL, LVDS, RSDS, and various types of macro cells can be implemented
Package
48-pin to 256-pin QFP, PBGA, PFBGA, QFN
S1X50000 Series
Status
MP
Series
S1X50000 Series
Features

High-density integration (0.35 µm CMOS process technology and 3/4-layer interconnect process)
High-speed operation (Internal gate delay: 140 ps/3.3 V, 2-input power NAND Typ.)
Selectable supply voltage: Operation on a single power supply (2.0 V, 2.5 V, 3.3 V)
Operation on dual power supply (I/O: 5.0 V/internal: 3.3 V, I/O: 3.3 V/internal: 2.5 V, I/O: 3.3 V/internal: 2.0 V)
Low power consumption (Internal cell: 0.39 µW/MHz/gate, 3.3V, Typ.)
Drivability (IOL=0.1, 1, 3, 8, 12, 24 mA at 5.0 V, IOL=0.1, 1, 2, 6, 12 mA at 3.3 V, IOL=0.1, 0.5, 1, 3, 6 mA at 2.5 V, IOL=0.05, 0.3, 0.6, 2, 4 mA at 2.0 V)

Macro Cells
RAM, ROM, Flash, MCU, PLL, analog cells, LVDS, RSDS, and various types of macro cells can be implemented
Package
48-pin to 256-pin QFP, PBGA, PFBGA, QFN, WCSP
S1X5V000 Series
Status
MP
Series
S1X5V000 Series
Features

High-density integration (0.35 µm CMOS process technology and 2/3/4-layer interconnect process)
High-speed operation (Internal gate delay: 0.19ns /5.0 V, 0.29ns /3.3 V,2-input power NAND Typ.)
Selectable supply voltage: Operation on a single power supply (2.0 V, 2.5 V, 3.3 V)

Low power consumption (Internal cell: 1.3 µW/MHz/gate, 5.0V,0.54 µW/MHz/gate, 3.3V,2-input NAND Typ.)
Drivability (IOL=0.1, 1, 3, 8, 12mA at 5.0 V, IOL=0.1, 1, 2, 6, 12 mA at 3.3 V, IOL=0.1, 0.5, 0.1,1,2, 6,10 mA at 3.3 V)

Macro Cells
RAM, ROM, Flash, MCU, PLL, analog cells, LVDS, RSDS, and various types of macro cells can be implemented
Package
48-pin to 256-pin QFP, PBGA, PFBGA, QFN, WCSP