USB HUB controller for Automotive
S2R72A54
Specially developded for on-board devices, the S2R72A54 is a USB HUB controller LSI which can be used under the highest operating temperature in the industry from -40℃ to +105℃.
The greatest feature of this product is that stable communication can be performed even in sever environments where there are excessively long cables,many junctions and etc.
Furthermore, the S2R72A54 also supports low power consumption designs and on-board quality.
On-board Quality
Featurs
Low Voltage Operation
Small Size Package
QFP48-pin 7mm x 7mm, QFN36-pin 6mm x 6mm, QFN36-pin 6mm x 6mm Wettable
Extensive Operating Temperatrue Range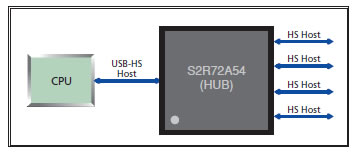 S2R72A4x series
Abundant Product Groups
S2R72A42:Down stream port ×2(HS×2)
S2R72A43:Down stream port ×3(HS×2, FS×1)
S2R72A44:Down stream port ×4(HS×2, FS×2)