About Epson Semiconductor
Environmental Responsibility
Epson thinks good quality products come from paying attention to the earth's environment and product safety. Therefore we have been trying to harmonize with the global environment.
We achieved CFC-free manufacturing for the first time in the world. After that, according to our original environment management system, we have been developing and manufacturing environmentally conscious products and fulfiled our social responsibility to use resources effectively and prevent environment pollution.

Environment Management System

[ISO14001 certification status]

Earth-friendly product information

[Green purchasing, RoHS , Lead-free]
Environmental Policy
Continuously improve our environmental management systems to increase the performance of our environmental initiatives.
Set environmental goals and promote the following actions to preserve the environment and manage pollution:

(1)Create and provide earth-friendly products.
(2)Help prevent climate change and global warming (reduce Scope 1, 2 and 3 emissions).
(3)Use energy and resources effectively, and control wastes and emissions.
(4)Limit or prohibit the use of potentially harmful substances in our processes and products.
(5)Disclose information about our environmental performance and contributions to the local and international communities.

Observe environmental laws, regulations, protocols, and agreements with outside stakeholders.
Announce this Environmental Policy to the public, and communicate it to all who work for these organizations.
Executive Management Team Responsible for Environmental Affairs
Environmental Activity System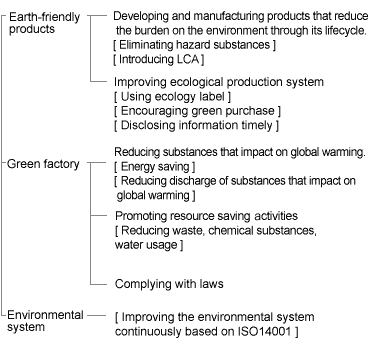 Environment Management System [ISO14001 certification status]
Third party certification status
Epson semiconductor business has EMS certification by the third party concerning the following content.
EMS Environment Management System certification status
Type of certification
ISO 14001: 2015, JIS Q 14001: 2015
Awarded to
Fujimi plant/Suwa-minami plant/Tohoku Epson Corp.
Certified by
Bureau Veritas Japan Co., Ltd. *
Date of certification
April 3, 1999
Date of expiration
May 19, 2023
ISO14001 certification
ISO14001 certification (Fujimi plant/Tohoku Epson Corp.)

(1,152KB)
* BVQI Japan Company Limited changed its name to Bureau Veritas Japan Co., Ltd., effective January 1, 2007.
Print the certifications in PDF above, if necessary. No alterations are permitted in any circumstances.
Take care not to cause misunderstanding about the certified scope and site.
Please scrap the pdf file or print of certificates properly when the date of expiration has passed.

ISO14000 series
International Standard for Environment System
In 1996 International Organization for Standardization set ISO14000 as a global standard against global warming, ozone depletion and forest resources depletion.
Earth-friendly product information [Green purchasing]

Banned chemical substance management system
We build the banned chemical substance management system based on green purchasing: purchasing materials that pay attention to the environment from vendors that pay attention to the environment.
Using materials that have 2 step approval

STEP1:Approving green vendor
We approve vendors who perform environmental activities and will continue to keep environmental commitment with us.

Are they environmental conscious?
Do they keep the commitment that they would not use banned chemical substances?
Do they control waste properly?

STEP2:Approve raw materials
We confirm the report of chemical substances in raw materials that green vendors supply to us. We would approve these materials after knowing they are not harmful.

What sort of chemical substances are there and how much do certain materials contain of them?
Would you report the analysis data for chemical substances in a material?
Can you replace materials if banned chemical substances are included?



Not using banned chemical substances
Recycling waste
Reducing emission of substances that impact global warming
Keeping on saving energy

* We ask our vendors to cooperate with this green purchasing activity.
Product chemical content control flow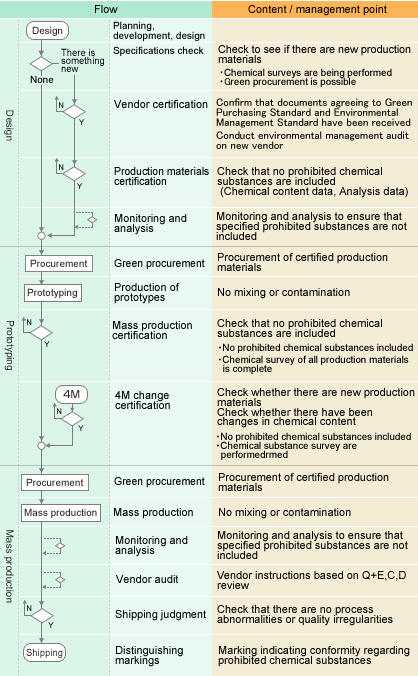 Chemical substance control status
Introducing chemical substances control is one of the major environmental activities that Epson has been working on.
For semiconductor products,please see the package lineup Web site.
Also,please contact our Device sales department for the latest update information.