Voice Guidance
Related information
Characteristics
Feature 1. No need for studio recording

Using Epson Voice & Sound LSI for your products featuring voice guidance functions means there's no need to arrange recording studios or hire professional voice performers.  This allows you to significantly reduce the product development costs and time to market.  The TTS tool available from Epson makes it easy to create or modify your speech phrases. 
12 languages are now available.
Japanese, English, Korean, American English, American Spanish, Canadian French, British English, German, French, Spanish, Italian and Russian.
Feature 2. Excellent sound quality for messages up to 4 times longer
bitrate
EPSON
(16kHz)
ADPCM
(16kHz)
ADPCM
(8kHz)
1MB
approx 8min
approx 2min
approx 4min
2MB
approx 16min
approx 4min
approx 8min
4MB
approx 33min
approx 8min
approx 16min
8MB
approx 1hour 6min
approx 16min
approx 33min
16MB
approx 2hour 13min
approx 33min
approx 1hour 6min
Epson's highly efficient encoding format allows for longer phrases with excellent sound quality. The integrated high-quality 16-bit DAC produces a "silky voice" that can be coupled with high quality sound effects.
Feature 3. Easy to integrate

Epson's voice guidance LSIs use a message protocol based on asynchronous serial interface. This means they are easily integrated into a wide range of host devices and microcontrollers, reducing development time and costs, and helping achieve faster time to market.
Feature 4. Easy Development by S1V3G340 + EPSON Speech Tool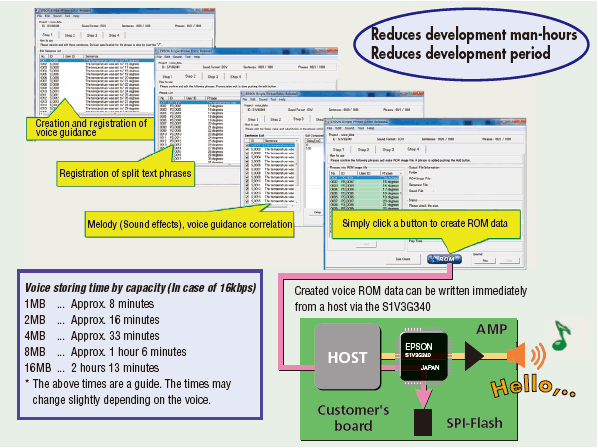 Voice guidance LSI lineup
Series name
S1V3G340
Status
MP
Download

199KB
Power supply
5.5v-2.2 single
Clock
32.768kHz or 12.288MHz
Host interface
SPI/UART/I2C
(Command control)
Sampling frequency
16kHz
Sound Decode Format
Epson Original Format
Bit rate
16/24/32/40kbps
Melody Synthesizer
-
Sound Phrase Combination Function
No limitaion on combination
Setting of DelayBetween Phrases
0 ms, 20-2047 ms (1 ms step)
Sound Data Streaming Regeneraiotion
Supported by the command control through the host interface
Integrated ROM Size (Time)
ROMless
DAC
Highly accurate 16-bit DAC
Package
QFP13-52pin (10mm □, 0.65mm pitch)
QFP12-48(7mm□, 0.5mm pitch)
QFN7-48(7mm□, 0.5mm pitch)
Languages supported by TTS tool
TTS Tool Support Language
Asia: Chinese, Japanese, Korean
Americas: American English, American Spanish, Canadian French
Europe: British English, French, German, Italian, Russian, Spanish
(No language restricitons when used for studio recording)
Evaluation Board
Supported
Sample Code(For the Host)
Supported
*1: Estimate when used at 16 kbps
Voice guidance LSI:S1V3G340, Evaluation Board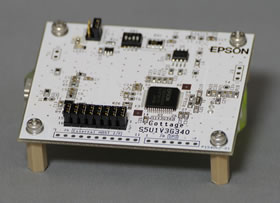 Tool for MAC address check

*Please request after purchasing EPSON evaluation board