Voice MCU
Epson offers simplest speech IC without traditional studio recording by a person. Our sophisticated codec engine eliminates such studio recording and generates neutral human sound quality as well as high compression rate. The Epson Voice/Audio IC enables a seamless IC platform to transform almost any applications into user-friendly voice prompted devices.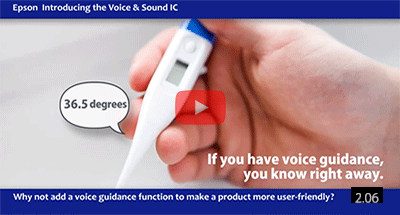 *Please request after purchasing Epson evaluation board
Tool for MAC address check

Characteristics
1. Epson's voice guide solution makes it easy to generate natural-sounding voices
Voice creation PC tools allow you to easily create and change voice data at any time, eliminating the need for time-consuming and costly studio recordings.
2-channel mixing function produces quality sound
Can play back voice even while background music is playing

Speech speed change function lets user change to a speed that's easy to understand
Speech speed can be changed without altering the voice (fast, normal, slow)
Supports 12 languages
| | |
| --- | --- |
| Asia | Japanese, Chinese, Korean |
| Americas | American English, American Spanish, Canadian French |
| Europe | British English, German, French, Spanish, Italian, Russian |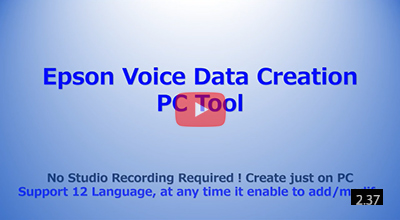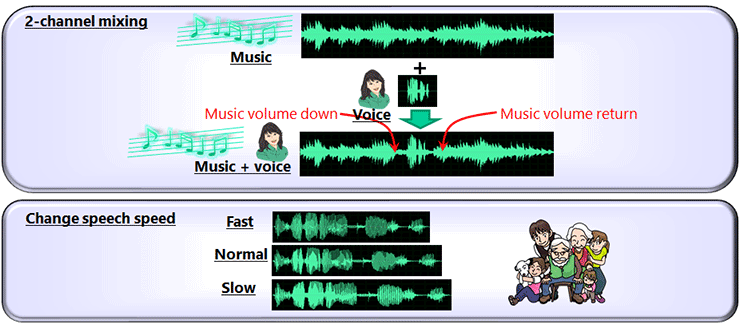 2. Space-saving and low cost with various recycling methods
3. Voice playback function and system control possible with just one chip
Comes with voice playback hardware, so CPU (ARM Cortex® M0+) can handle full operation even during voice control

Examples of applications
Coffee maker, Water heater, Gas range, Healthcare devices, Consumer electronics etc
Products lineup
S1C31D50

S1C31D51

S1C31D41

Flash

192 KB (both program and voice)

96KB(both program and voice)

RAM

8 KB
(+14 KB when hardware processor not being used)

10 KB
(+12 KB when hardware processor not being used)

8 KB
(+18 KB when hardware processor not being used)

Hardware Processor

2-channel mixing playback
Change speech speed
Memory self-diagnosis function (internal RAM, internal Flash, external SPI-Flash)

2-channel mixing playback
Change speech speed
Pitch conversion
Memory self-diagnosis function (internal RAM, internal Flash, external SPI-Flash)

Sound DAC

Sampling rate: 15.625 kHz

Serial Interface

SPI (3 channels), UART (3 channels), I2C (3 channels), QSPI (1 channel)

Sound Play Method

AMP + Speaker

AMP + Speaker
Simple circuit + speaker
Simple circuit + buzzer

ADC

12-bit (max. 8 ports)

SVD

VDD: 28 levels (1.8 to 5.0 V)/external voltage: 32 levels (1.2 to 5.0 V)

DMA

4 channels (Memory ⇔ Memory, Memory ⇔ Peripheral)

RFC

Low-resistance sensor A-D conversion, CR oscillation with 24-bit counters

Timers

16-bit timer (8 channels), 16-bit PWM (2 channels), WDT, RTC

Power Supply

1.8 to 5.5 V VDD
3.3 V SPI-Flash interface dedicated power supply

Flash Programming

2.4 to 5.5 V

2.2 to 5.5 V

Clock Frequency

Max. 16 MHz (internal power: 1.8 V)
Max. 1.8 MHz (internal power: 1.2 V)

Power Consumption

Standard mode RUN: 243 uA/MHz (internal: 1.8 V)
Low Power mode RUN: 155 uA/MHz (internal: 1.2 V) Max. 1.8 MHz
SLEEP: 0.46 uA, RTC mode: 0.95 uA

Standard mode RUN:215uA/MHz (internal:1.8v)
Low Power mode RUN:130uA/MHz (internal:1.2v) max 1.8MHz
SLEEP: 0.34uA, RTC mode:0.9uA

Package

P-TQFP048-0707-0.50
P-LQFP064-1010-0.50
P-TQFP080-1212-0.50
P-LQFP100-1414-0.50

P-TQFP032-0707-0.80
P-TQFP048-0707-0.50
P-LQFP064-1010-0.50
IEC-60730
Supported by Sample SW
Customer comments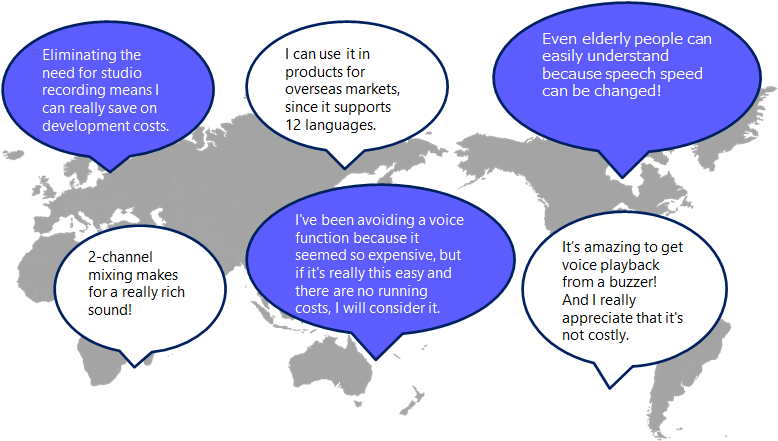 Information downloads
S1C31D50 /D51Data Sheet

(1,232KB)
S1C31D50 /D51Technical Manual

(11,439KB)