Accelerometer: M-A552AC1/AR1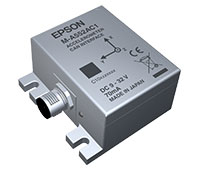 The M-A552 sensor unit measures 3axis acceleration with high accuracy and high stability, small size, and low power consumption.
This sensor unit uses the latest technology to improve performance and offer wider sensing bandwidth. With Controller Area Network (CAN) interface or RS422 interface supported for host communication
*1 : CAN(controller area network) means "The network protocol used for automotive and industrial applications".
Click Here and Download Full Data sheet
Features

Product Name
M-A552AC1
M-A552AR1
Interface
CAN
RS-422
Protocol
CANopen
-
Integrated Sensor
M-A352AD
Sampling Rate
1000 Sps(Max.)
Dimensions
65 x 60 x 30 mm (including projections)
Weight
128 grams
Supply Voltage
9 to 30 V
Water and Dust Proofing
Equivalent to IP67
Regulation
FCCPart15B ClassA
Applications
Construction and civil engineering customers

Safety monitoring during construction of civil engineering structures
(e.g., ensuring safety by monitoring the tilt of structures under construction)

Large machines and large structures

Tilt measurement of ships & large machines
Monitoring the safety of large structures
(e.g., pipelines and large plants)
Technical Information
For more technical information on Accelerometer M-A552, please see our Contact page.
Accelerometer: M-A552 Document
News & Events
Contact
For further information on this site, please contact an Epson sales representative in your region. Please see contact page.
---