Vibration sensor: M-A342VD10 / M-A542VR10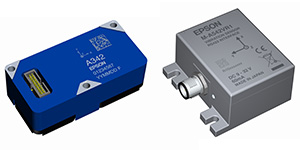 The M-A342VD10 and M-A542VR10 are compliant with the evaluation criteria for motors in ISO 10816 and ISO 20816.
Both products are three-axis vibration sensors with digital velocity and displacement output and are characterized by low noise, high stability, and low power consumption thanks to crystal vibration sensor elements produced using Epson's unique microfabrication technology.
M-A542VR10 has a dust- and water-protected RS422 interface.
Click Here and Download Full Data sheet
Features

Product Name
M-A342VD10
M-A542VR10
Interface
SPI/UART
RS422
Data transfer speed
115.2 kbps to 921.6 kbps (default 460.8 kbps)
Detected axes
3
Physical output quantities
Velocity and displacement
Output formats
raw, rms, p-p (digital output)
Output Range
Velocity: ±100 mm/s
Displacement: ±200 mm
Measured frequency range
Velocity: 10 Hz to 1,000 Hz
Displacement: 1 Hz to 100 Hz
Supply voltage
3.15 V to 3.45 V
9 V to 32 V
Current consumption
29 mA (3.3 V)
51 mA (12 V)
Operating temperature range
-30℃ to 85℃
-30℃ to 70℃
Applications
Motors for operating weirs, floodgates, dam gates, etc.
Technical Information
For more technical information on Vibration sensor M-A342 and M-A542, please see our Contact page.
Vibration sensor: M-A342 and M-A542 Document
News & Events
Contact
For further information on this site, please contact an Epson sales representative in your region. Please see contact page.
---