Achieve High-speed Display Output and Low Power Operation

The technologies of low voltage operation and low power consumption acquired over the years through the development of 4-bit microcontrollers for watches and electronic shelf labels (ESL) are inherited by 16- and 32-bit microcontrollers today. The product lineup has been expanded, while achieving better throughputs. The display functions range from small-sized segment LDC drive to QVGA color display. A wide array of sensor interfaces recently attracting attention are also available. In addition to digital SIO such as SPI, UART, and I2C and the low power ADCs, the Epson original frequency conversion type ADC is capable of supporting measurements by resistance thermometer sensors and humidity sensors. A variety of these functions, low power technology and a highly efficient processor are all built into a single chip. With this one-chip solution, Epson continues to offer optimum products for small-sized battery-driven equipment, operation panel controllers, and sensor built-in healthcare products and housing equipment.
Video Contents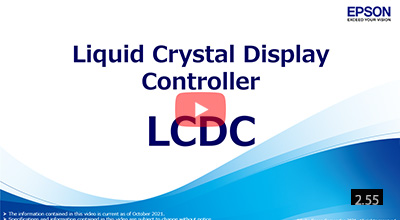 Related Information
Other Epson Resources
---
Display Controllers Product Lineup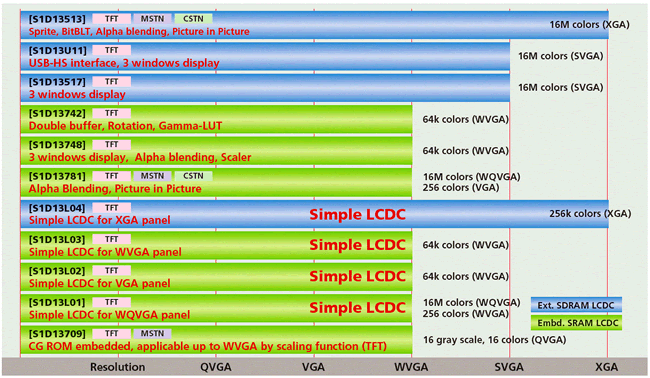 Display controllers spec tables

Introduction of LCDC

LCD Controllers with Built-in VRAM
Single-chip LCD controllers featuring built-in display memory allowing for low power consumption, low noise, and space-saving ability. These products have more features than Simple LCD Controllers which makes them ideal for display control of mobile terminals and operation panels.

Simple LCD Controllers with Built-in VRAM
Single-chip LCD controllers with built-in display memory and a simplified function set. These products are ideal for a wide variety of applications that require simple LCD display.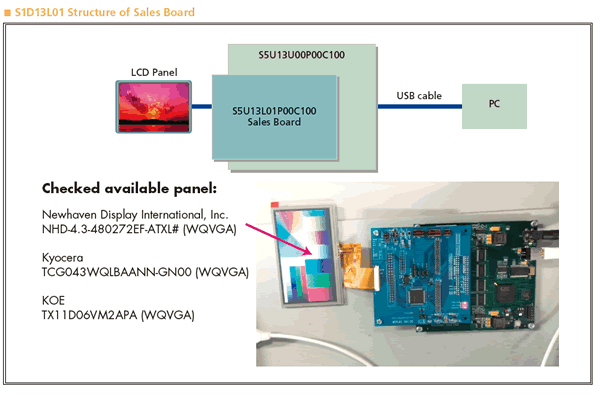 Memory Display Controller
This Product is for various memory display (color and B/W) available in the market.
It has graphic acceleration hardware and voltage generators for memory displays.
Its low power but powerful graphic features are suitable for wearable products.
Video Contents
LCD Controllers with External VRAM
LCD controllers providing support for a wide range of small to large size panels. The external memory option allows the memory size to be cutomized based on the target application. These products are most suitable for display control of OA or FA equipment operation panels, as well as some automotive (in-vehicle) devices.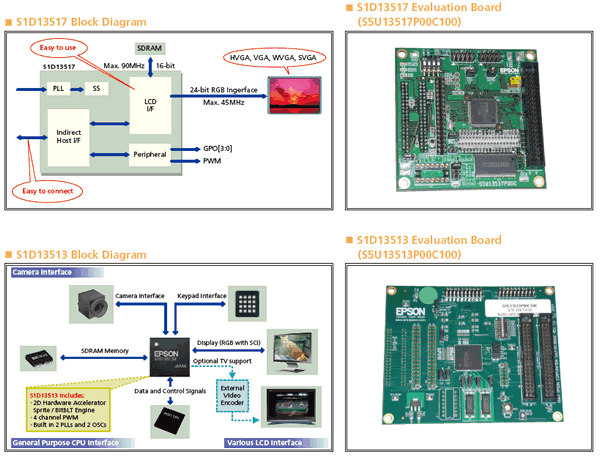 LCD Controllers with Camera Interface
LCD Controllers incorporating a camera interface which allows the LCD controllers to display camera images on the panel without placing a load on the CPU. These products are excellent choices for display control of a wide variety of applications such as mobile terminals and security devices.
Automotive LCD Controllers
Automotive LCD Controllers are designed for in-vehicle applications and meet the increased specifications required by the Automotive industry.
USB Interface LCD Controllers
LCD Controller allowing for reception of display data and transmission of touch-screen coordinate data at high speed via USB2.0-HS. This product is most suitable for applications on OA equipment such as multi-functional printers with long lengths of cabling between the host CPU and LCD panel. It is also ideal for in-vehicle devices such as rear entertainment displays.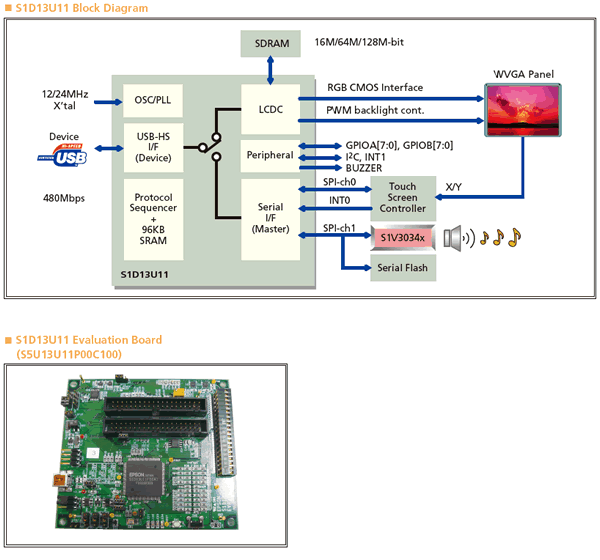 Automotive Multi-camera Interface Ics
Interface IC that synthesizes input images from multi-channel analog cameras and combines the image into a single output images. This product meets the increased specifications required by the Automotive industry. It is most suitable for security-related applications such as monitoring cameras and in-vehicle camera systems.