Inertial Measurement Unit (IMU) :M-G552 Series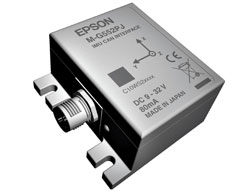 Water and Dust Proof Inertial Measurement Unit(IMU)
Suitable for use in industrial and heavy duty applications with water-proof and dust-proof metallic case.
Click Here and Download Full Data sheet
Features
Specifications of M-G552PJ/PC/PR
Product Name
M-G552PJ1
M-G552PJ7
M-G552PC1
M-G552PC7
M-G552PR1
M-G552PR7
Low Noise, High Stability
Gyro Bias Instability
1.2°/h
0.8°/h
1.2°/h
0.8°/h
1.2°/h
0.8°/h
Angular Random Walk
0.08°/√h
0.06°/√h
0.08°/√h
0.06°/√h
0.08°/√h
0.06°/√h
6 Degree Of Freedom
Triple Gyroscopes
±450 °/s
±450 °/s
±450 °/s
±450 °/s
±450 °/s
±450 °/s
Tri-Axis Accelerometer
±10G
±10G
±10G
±10G
±10G
±10G
Data Resolution
16bit
16bit
16bit
16bit
16bit/32bit
16bit/32bit
Interface / Protocol
J1939
CANopen
RS422
Bit ratel
250 kbps / 500kbps
1M bps(Max.)
460.8k bps / 230.4k bps / 921.6k bps
Data Output Rate
1000 sps(Max.)
1000 sps(Max.)
2000 sps(Max.)
Factory Calibrated Stability
Bias, Scale Factor & Axial alignment
Water ans Dust Proofing
IP67
Size and Weight
60 × 60 × 30 mm (Not including projection), 115g
Regulation
FCC part15B(USA), CE(EU)
Applications
Motion & Vibration Measurement
Platform Stabilization
Attitude Detection for Unmanned systems
Vibration control & stabilization
Technical Information
IMU:M-G552PJ/PC/PR Document
Software
For more technical information on IMU:M-G550-PC/PR, please see our Contact page.
News & Events
Contact
For further information on this site, please contact an Epson sales representative in your region. Please see contact page.
---